Kitchen & Bath Remodeling
Kitchens and bathrooms are places to live well and reflect your sense of style. Kitchens are no longer just cooking spaces; they're gathering places and a focal point for your home. Baths are not just function-oriented, but places of practical luxury. Redesigning either space not only greatly enhances your enjoyment of your home, but also adds to its value. We invite you to view our portfolio to explore the quality of work we provide for our customers and then contact us to schedule a consultation.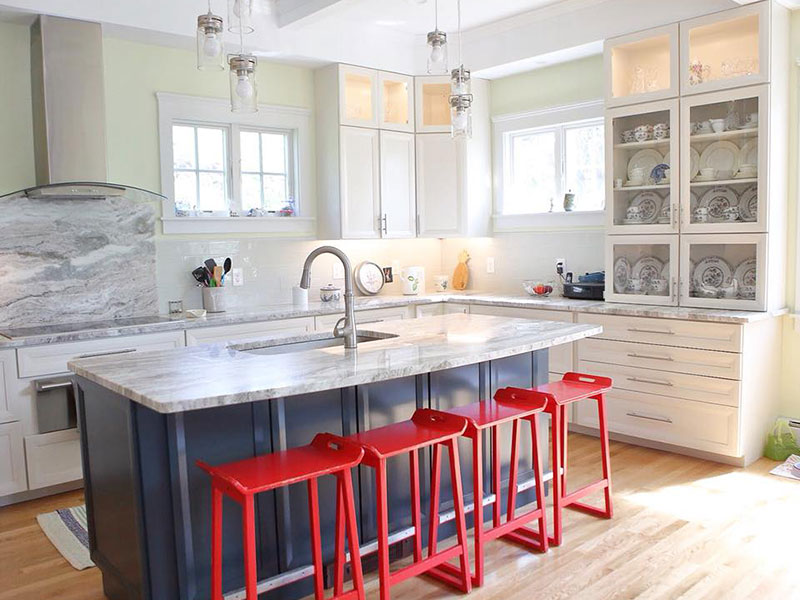 Kitchen Remodeling
Kitchens are a reflection of your personality and personal style. When Legacy designs Rhode Island's most beautifully remodeled kitchens, we start by getting to know our clients and their lifestyle. Do you love to cook for a crowd? Do the kids sit in the kitchen to do homework? Do you like grand spaces or intimate settings? Clean lines or warm details? Once we get to know you, we can focus on selecting all the details that suit your design style and your lifestyle. At Legacy Construction, we know designing the kitchen of your dreams begins with you.
Bathroom Remodeling
Quality workmanship shines through on our bathroom remodeling. Whether you need more space or more style, bathroom remodels are a great way to improve your home and your life. From a hardworking family bathroom to a spa-inspired master bath, today's bathroom designs are extraordinary. With an array of fixtures and faucets, endless stone and tile options, unique shower and tub designs, and tasteful lighting options, your bathroom can be as unique and stylish as it is functional. The talented design and installation team at Legacy can create a space you will love!